Vienna, Austria, May 16th, 2023
BEBIG Medical and Klarity Medical, two of the renowned companies in radiation therapy industry, today announced a signing of Distribution Agreement to mutually promote the marketing and distribution of BEBIG Medical's HDR brachytherapy products in US market.
BEBIG Medical's HDR afterloader SagiNova® was designed to address today's customer's needs for HDR brachytherapy applications regarding safety, seamless workflows and cost efficiency. The SagiNova® provides the choice of two isotopes, Ir-192 and Co-60 according to individual needs and preferences. Both sources are equivalent in size and have been in clinical use for more than 10 years. The Co-60 has a considerably longer half-life of five years and a certified 100,000 source transfers, it has become a more cost effective solution to customers.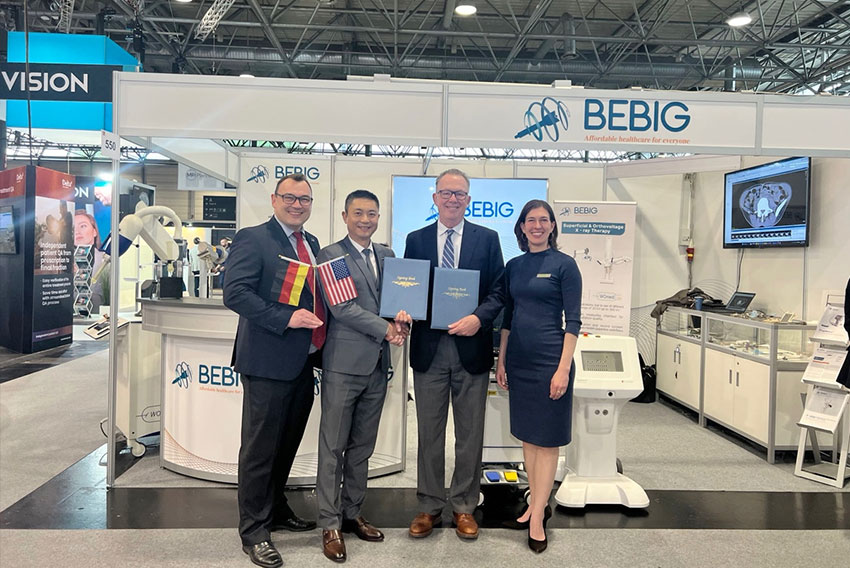 Mr. George Chan, Chairman and CEO of BEBIG Medical, says: "We are pleased to have entered this commercial distribution agreement with Klarity Medical. Klarity Medical has a long technology expertise in radiation therapy since 1960's with mature marketing and distribution channel in US market. I believe together with efforts from both side, we are able to provide more comprehensive and effective solutions to the customer in US market"
Peter M. Larson, President of Klarity Medical Products, says:" We are thrilled to announce that we are now the exclusive distributor of BEBIG Medical's HDR brachytherapy in the USA. We take great pride in this partnership, as BEBIG Medical is renowned for its exceptional equipment and commitment to delivering excellent patient care. We look forward to providing healthcare professionals across the country with access to BEBIG Medical is innovative and superior medical devices. This is a great step forward in our shared goal of improving cancer care for patients everywhere.
About BEBIG Medical
BEBIG Medical is a global provider of high-quality radiation therapy products for cancer treatment headquartered in Berlin, Germany. Preceded by the high dose brachytherapy business unit of Eckert & Ziegler AG, BEBIG Medical has a heritage of more than 40 years' experience in radiation therapy field and continues to provide affordable healthcare with proven clinical outcomes via strong and viable technology. In 2013, Mick Radio-Nuclear Instruments, Inc., known internationally for its 40 years' manufacturing expertise in the field of applicators and accessories for radiation therapy, became a member of BEBIG Medical. Since 2022, the acquisition of Wolf-Medizinitechnik GmbH (WOmed), a Germany based manufacturer for reliable X-ray therapy and innovative intraoperative radiation therapy, expands BEBIG Medical's portfolio and distribution network. With a team of professionals and offices in Europe, United States and Asia, the company is empowered to serve customers in more than 70 countries and regions together with a worldwide distribution network. Learn more about BEBIG Medical via www.bebigmedical.com
About Klarity Medical
Klarity Medical Products manufactures and distributes a variety of products serving the needs of radiation therapists, occupational therapists, hand therapists, and other medical specialists. Through our work with cancer centers worldwide, Klarity is a global leader in manufacturing and developing thermoplastics and positioning devices.
Learn more about Klarity Medical via https://klaritymedical.com/