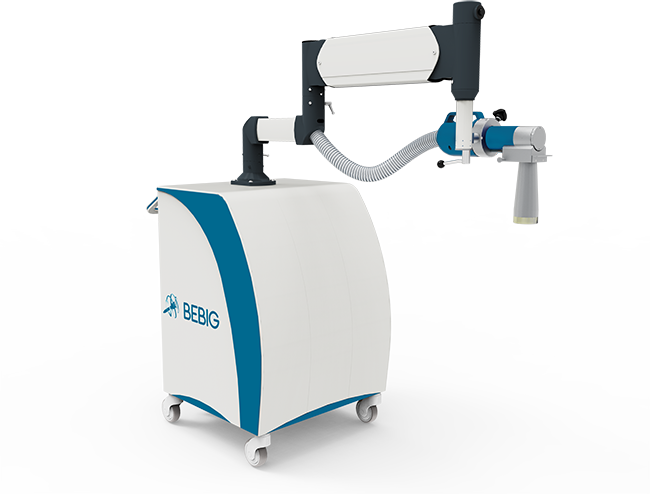 X-ray therapy units of the type T-105 are intended for superficial x-ray therapy in a range of 10 to 100 kV. The unit T-105 consists of a mobile trolley with a mounted x-ray tube stand. A separate control desk and a touchscreen PC allow operation from a shielded area. The tube head is mounted on a spring arm and is able to be turned in two axis. The spring arm itself is easy to move for height setting. A clamping mechanism allows that the preselected stand position remains stabile for the treatment of the standing, sitting or lying patient. Directly at the tube head, the selection of one of the four filters is possible. Together with the filter, the high voltage and the tube current will be selected. The trolley contains a monitoring screen with indicator lights. Optionally, the T-105 can be supplemented with the networkable RadControl - II verification & record system for treatment planning and documentation.
| | |
| --- | --- |
| Max. high tension [kV] | 100 |
| Max. tube current [mA] | 12 |
| Max. power [W] | 1.200 |
| Two circuit cooler | water - water |
| Number of selectable energies (combined of filter, [mA], [kV]) | 4 |
| Max. number of applicators | 14 |
| Focal skin distance [cm] | 15...30 |
| Mains | 1 ~ PEN , 230 V AC, 16 AT |
*The mentioned products are not available in all markets. Please contact your local BEBIG Medical representative for more information.