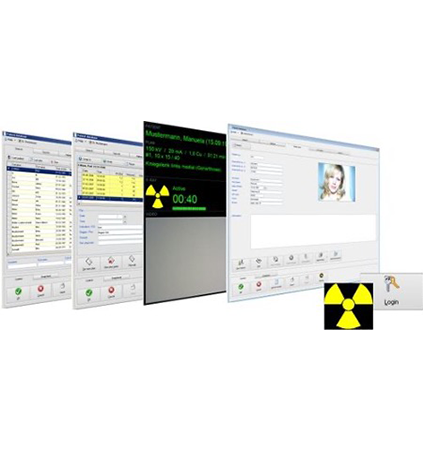 The verification and record system RadControl-II is an integral part of the T-160, T-200 und T-300 X-ray systems; it is also an option for series T-105 systems.

The verification and record system RadControl-II is a hardware-independent console under MS-WINDOWS® operating systems for communication with the device control of WOmed therapy systems. All device functions are monitored and visualized. The integrated database provides information for patients and treatments. Dosage is carried out either by the integrated planning system or using standard plans. Extensive reporting and administration functions round out the system to an efficient dose-planning and verification system. The multi-user network environment allows the system to be used simultaneously by different working groups.
Visualization of machine operation
permanent visualization of device status
plain text messages to the user (multilingual)
supports patient and field image documentation
shows the planned patient name, indication, treatment region
shows the planned machine parameters
shows the temperature and status of the cooling system
warning tones during treatment
Database
patient master data with supporting images
support for planning surface and depth doses (including field reduction using masks)
alternative selection via standard plans
supports copy and paste of irradiation plans
administration of applicability of particular applicators depending on energy selected
import of patient master data from different protocols
import of patient master data from DICOM worklist (optional)
import of external documents for patient and irradiation plan
import of DICOM images for verification (DICOM-SCP, optional)
networkable
General
management of user rights
multilingual (default: English and German, further languages on request)
remote access (via internet) for service and program maintenance
additional modules: e.g. triggering of PTW dosimeter
monitoring of maintenance cycles

System requirements
Microsoft Windows XP (32) professional or Microsoft Windows 7 (32) ultimate
min. 2 GB RAM, min. 350 GB hard disk
screen resolution min. 1280x1024 (min. 17" TFT, VGA or DVI)
sound card, speakers
min. 7 x RS232 ports (Sub-D 9)
LAN 100/1000, TCP/IP protocol
keyboard, mouse

*The mentioned products are not available in all markets. Please contact your local BEBIG Medical representative for more information.